It was a full house for our kickoff seminar of the Business Leaders Advantage Series: Four Key 2020 Business Risks and What to Do About Them. Thank you to all who attended.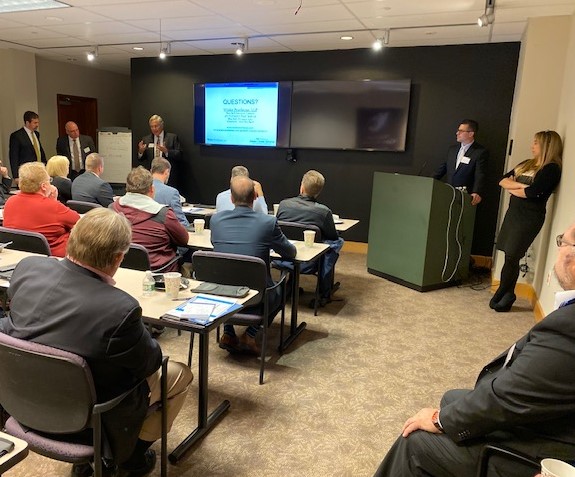 FOUR KEY 2020 BUSINESS RISKS AND WHAT TO DO ABOUT THEM
Business owners and managers face a myriad of legal and operational pitfalls nearly every day. Our November 12, 2019 kickoff seminar will provide a survey of some of the most common – and daunting – challenges that need to be confronted in 2020. Through real-world examples, you will learn how to recognize your company's risks, and how to utilize the most effective solutions and strategies. The goal: helping you spend less time on problem-solving and more time on the successful operation of your business. Topics will include:
Avoiding Employee Liabilities – How to avoid the three most important mistakes under the Americans with Disabilities Act.
Retaining Key Employees – Maximizing the enforceability and effectiveness of non-compete and non-solicitation agreements, utilizing golden handcuff arrangements, and verifying the competitiveness of key employee compensation packages.
Managing Commercial Liabilities – How to spot problematic provisions that appear in many commercial contracts, and determine whether your company is insured against the liabilities that may arise from those provisions.
Minimizing Cybersecurity Risks – Avoiding the most common cybersecurity dangers, protecting your company's data and the data of your customers, and what to do if you experience a security breach.
SPEAKERS:
Michael G. Trachtman, Esq.
Mary J. Pedersen, Esq.
Brian R. Elias, Esq.
Jason J. Herron, Esq.
M. Joseph Clement, Esq.
AGENDA:
8:30 AM – 9:00 AM: Breakfast and Networking
9:00 AM – 10:00 AM: Presentation
WHEN: November 12, 2019, 8:30 AM – 10:00 AM
WHERE: 470 Norristown Road, First Floor, Blue Bell, PA 19422
RSVP to: Arlene Lepore – alepore@wispearl.com, (610) 825-8400
The Business Leaders Advantage Series is a seminar series featuring proven strategies to help your business prosper, reduce risk, and retain valued employees.