April 24, 2023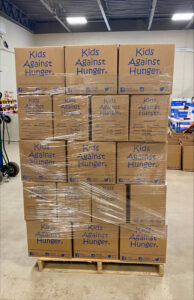 Wisler Pearlstine attorneys, staff, and members of their families, recently volunteered with Kids Against Hunger United (KAH), a local organization dedicated to feeding the hungry in their local communities and across the globe.
The meal of the day, rice and veggies, included high-quality, long grain rice, vitamin-fortified, crushed soy, a dehydrated blend of six veggies and vitamin/mineral powder. The firm's team packed 7,560 life-saving meals in two hours. According to KAH, one bag of this nutritious dish feeds six people and has a shelf life of at least three years, providing not just a meal, but better health to starving people.
From baggers to ingredient scoopers, weighers, sealers and packers, each and every participant played a vital role in the meal-packing process. The finished products were shipped to Sudan, Africa to help feed impoverished individuals, children and families.